Sarah and Matthew Ramadhani 09.10.2021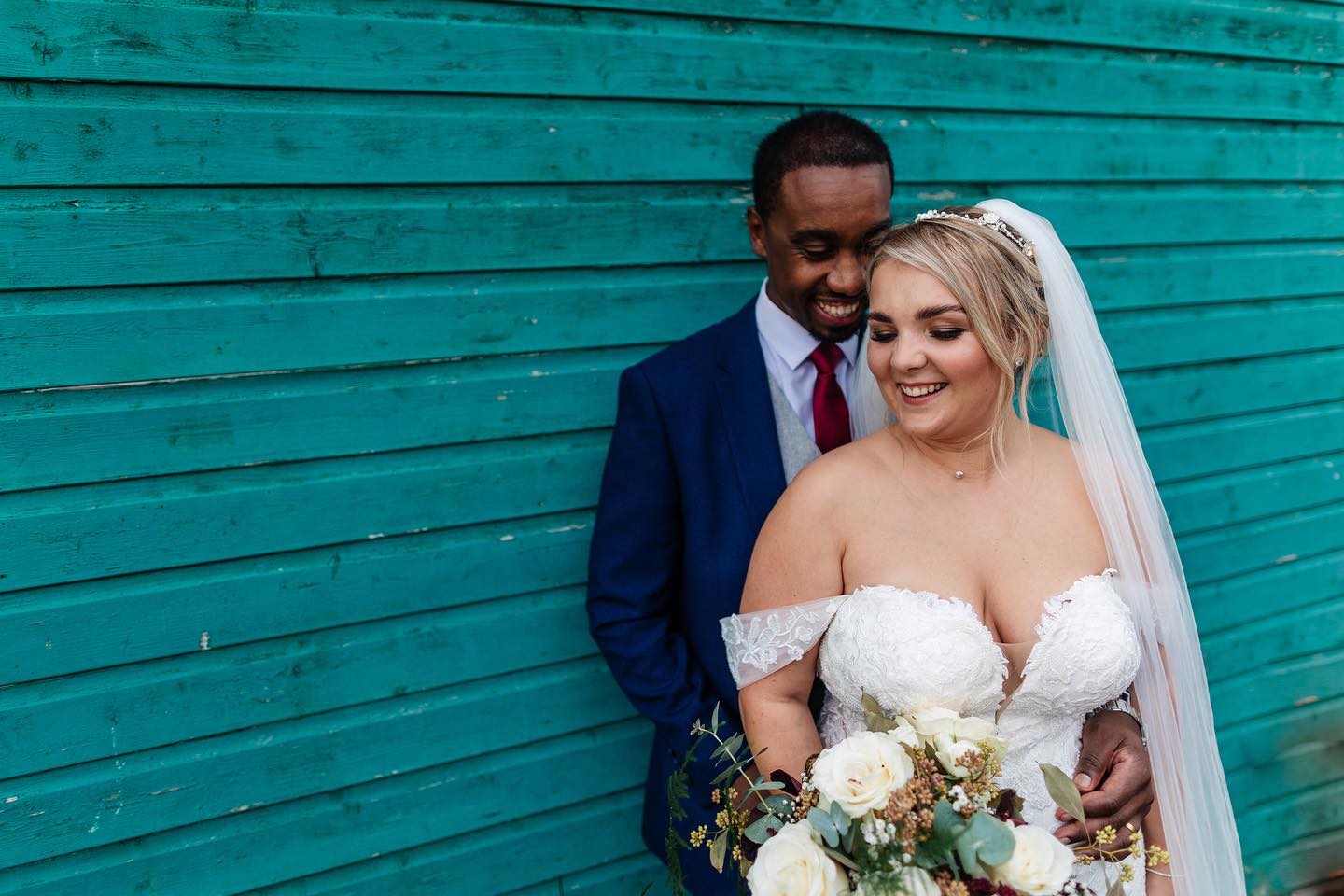 This month our featured 'Real Wedding' is Sarah and Matthew who after a few postponements for different reasons (including the dreaded covid) finally got married on 9th October 2021 at St Agnes & St Pancras Church followed by a celebration at the Liverpool Cricket Club with all their family and friends.
We actually only met Sarah and Matthew 4 days before their wedding! They had been let down by another Wedding Florist in Liverpool last minute and they had phoned us in a panic, wondering if we had any availability?! We absolutely couldn't let them down and invited them in that day for a chat to find out what Wedding Flowers they needed.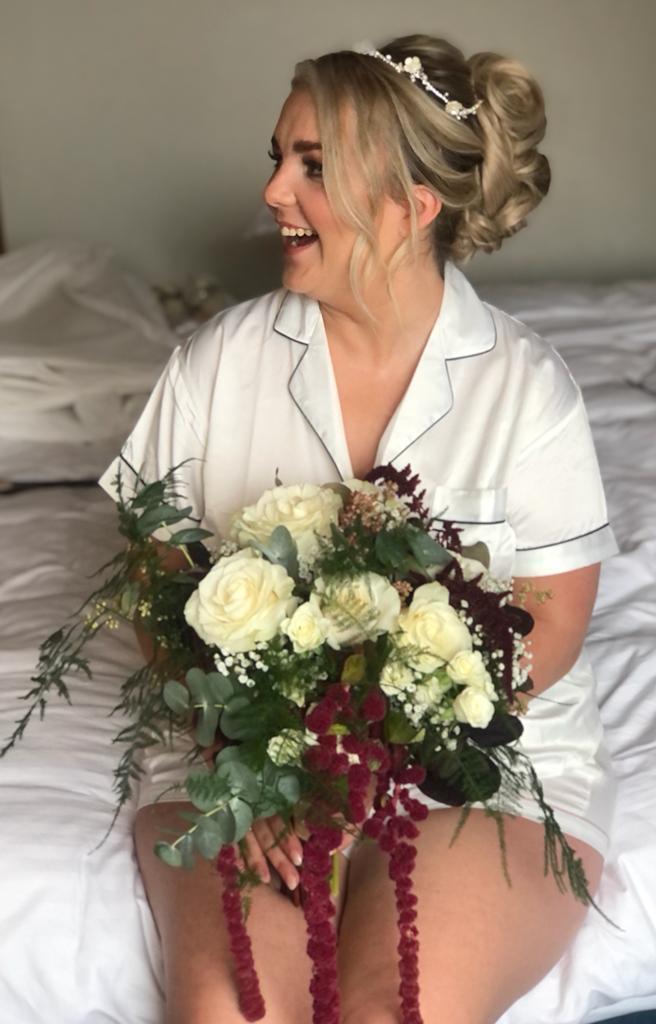 We are so glad we did as they were the perfect couple and after a few tears during the wedding consultation, we couldn't have let their day go by without any Wedding flowers.
Sarah and Matthew had an Autumn dark red theme and due to the late notice, left the flower choices up to us but knew the style they wanted and gave us lots of input.
We, therefore, created a wonderful hand-tied Bride bouquet for Sarah in dark red and white with autumnal touches. We achieved this by using large-headed white roses, smaller white spray roses, gypsy grass, deep red amaranthus, eucalyptus, and asparagus fern to give it a wild Autumn vibe.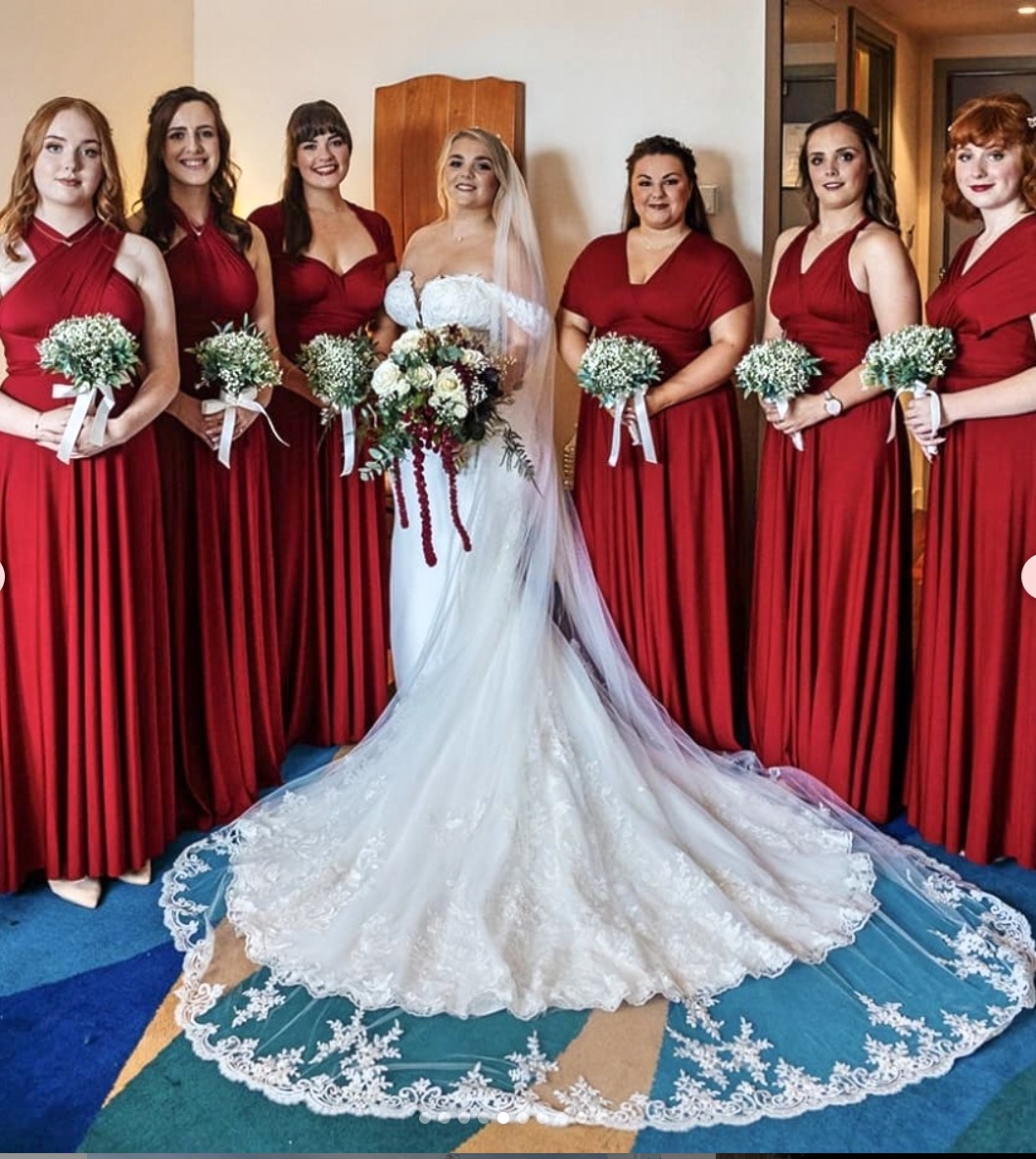 Sarah and Matthew had 6 bridesmaids, all dressed in dark red, so to contrast their dresses we created white gypsy grass hand-tied bouquets for them all.
The groom and groomsmen all wore navy blue, so White large-headed buttonholes were made for them and we made their mums wrist corsages to match.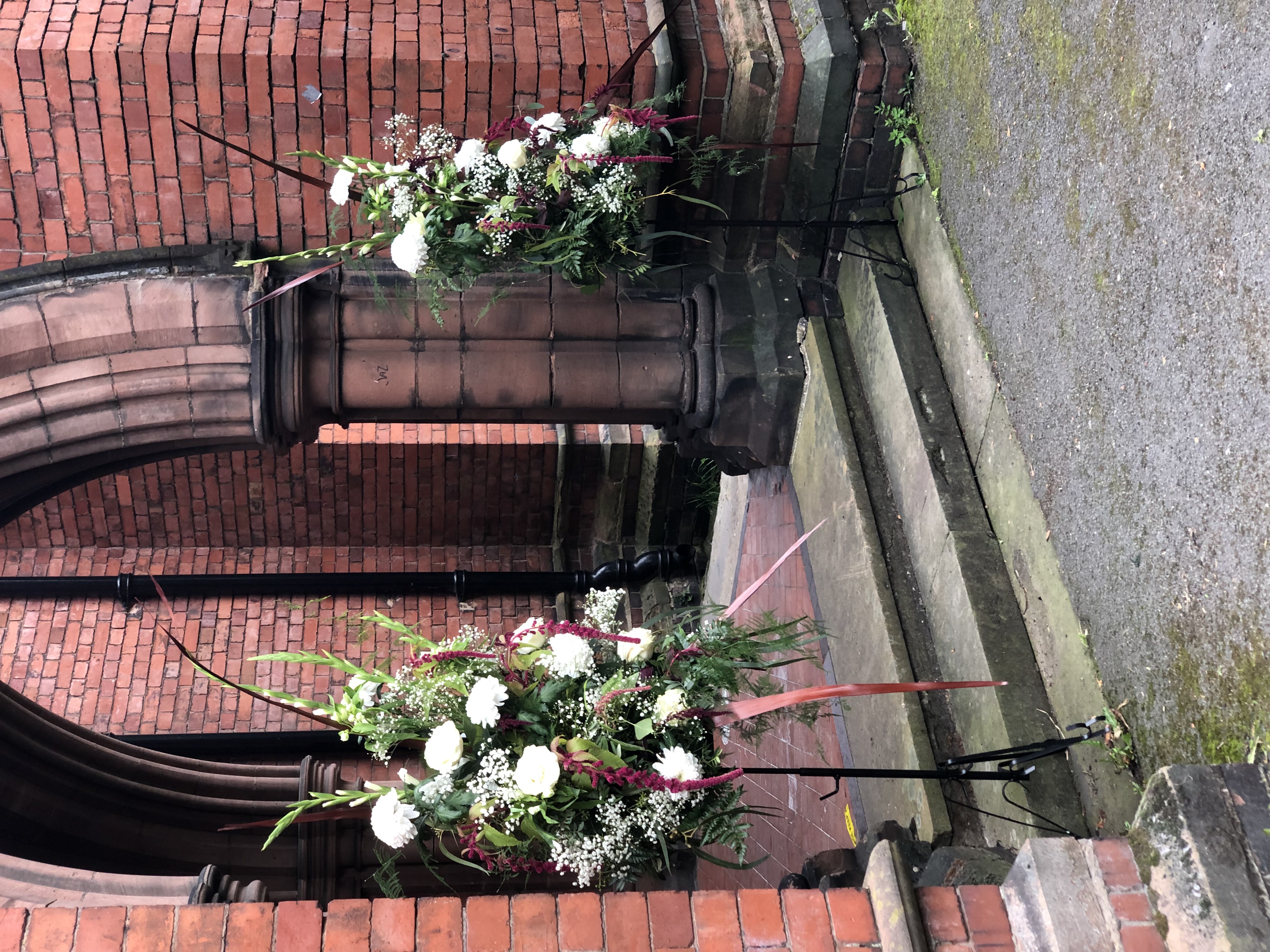 Sarah and Matthew also wanted the church decorated with gypsy grass pew ends and an arrangement outside, which we recommended should be two Wedding Pedestal arrangements to decorate the entrance to the church in matching autumnal flowers.
Then we helped to decorate the venue, which was the new Century Pavilion at the Liverpool Cricket Ground. This venue is beautiful and doesn't need a lot, however, a top table in flowers matching the Bride's bouquet finished it off nicely.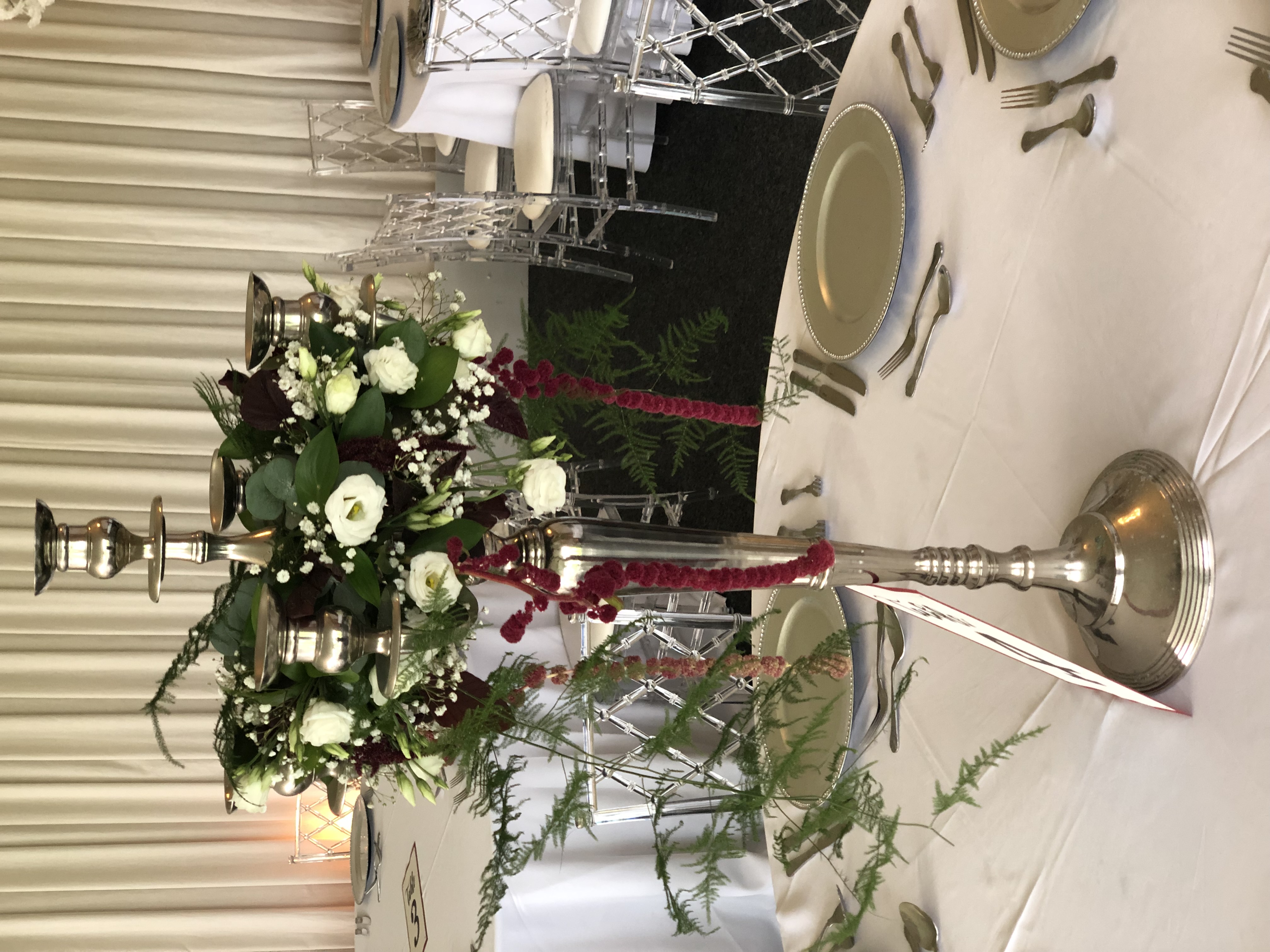 The guest tables already had Candleabras on (venue's own) but we added a final touch of flowers and foliages to them to complete their look.
Sarah and Matthew had such a beautiful sunny autumnal day in October and this was captured by fun and relaxed Liverpool Wedding Photographers The Struths.
We think you will agree these photos are amazing! Special thanks to The Struths for their wonderful pictures.
Their relaxed and happy atmosphere was captured here, in another amazing photo from The Struths. You wouldn't have thought we had only met them 4 days prior to this and that they trusted us to help create the Wedding Flowers of their dreams!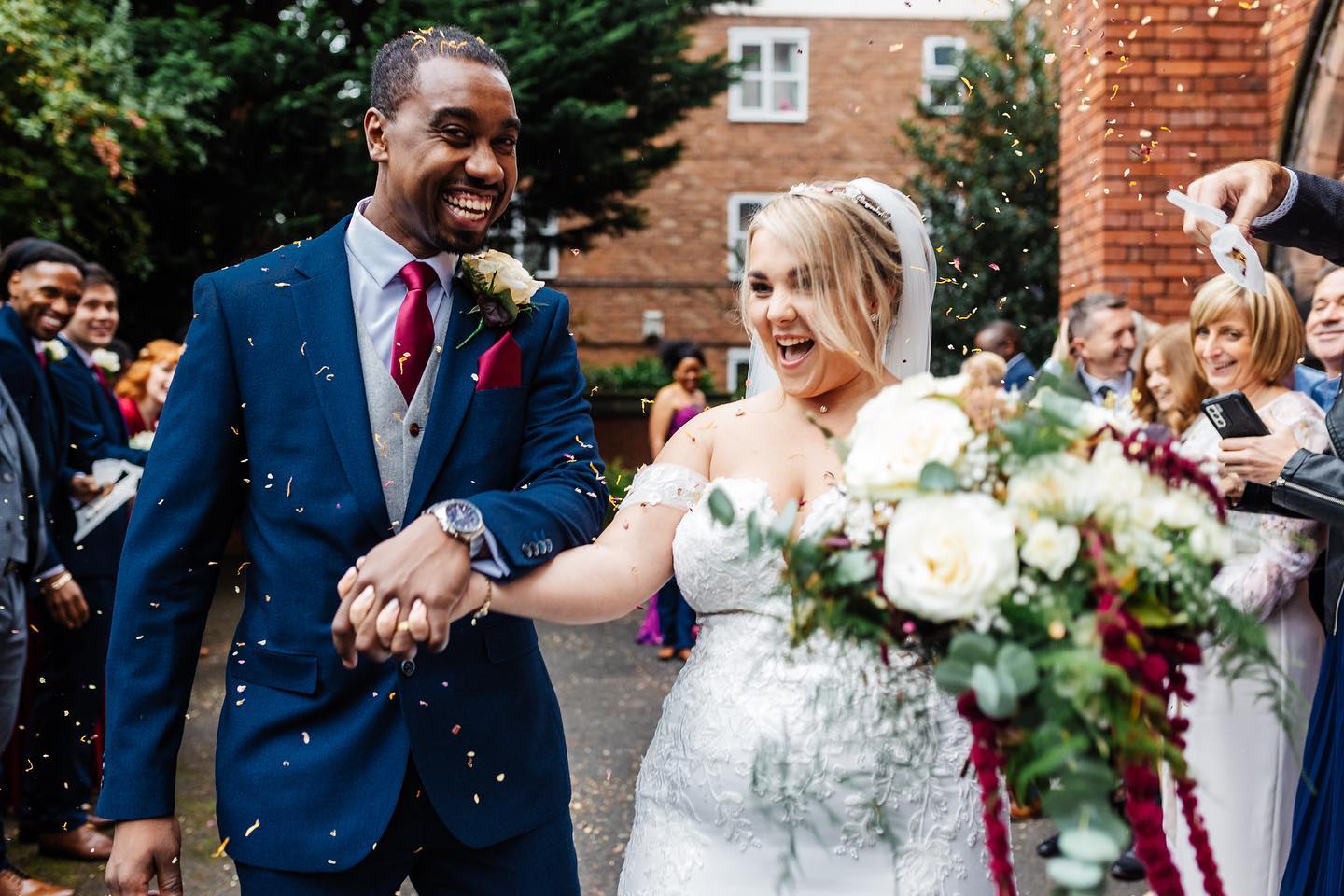 Following their October Wedding, they sent this lovely review to their Liverpool Wedding Florist:
I called Booker Flowers 4 days before my
wedding (due to original florist issues) to see if they were available to do all of the flowers for my wedding that Saturday.
I had a very helpful conversation with the manager who invited me in that day to discuss my flowers. From the moment I stepped into Booker Flowers shop I felt reassured and calmed during an extremely stressful situation, Fleur the manager sorted all of my flowers for my wedding, she was professional, helpful, knew exactly what I wanted but most importantly she was so so kind and completely reassured me all would be perfect.
I am completely blown away by not only the service but by my GORGEOUS flowers when they arrived on the day. They were above and beyond anything in my imagination and received so many compliments.
I will never forget what Booker flowers did for me that day, and will never stop recommending them to ALL of my friends and family! Do not hesitate to order flowers from here.
Thank you so so much again to Fleur and all at Booker Flowers for making my wedding flowers so so special.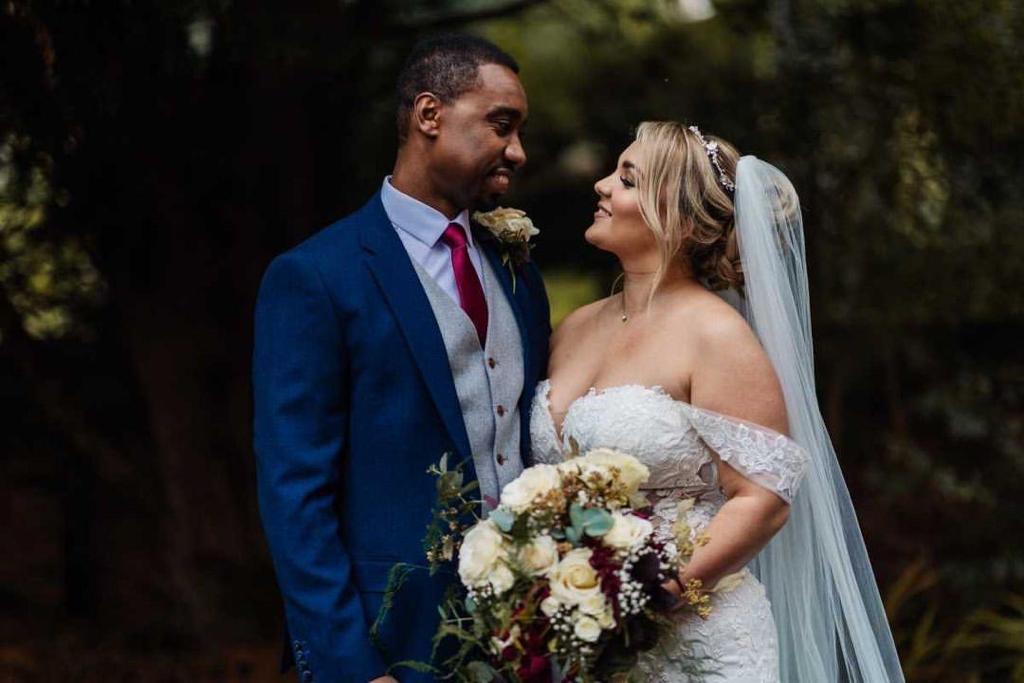 Thank you Mr & Mrs Ramadhani for your lovely testimonial. We wish you a lifetime of happiness together.
We hope this has given you some inspiration for an Autumnal Wedding, however, if you want to see more Autumn Wedding Flowers, see our Wedding Gallery which features lots of other Autumn Weddings from October.
Alternatively, if you would like to read more Bride's testimonials (like Sarah's above) then check out our Liverpool Wedding Testimonials Page on our website.
Booker Wedding is an award-winning Wedding florist in Liverpool and they look forward to making your wedding flower dreams come true.
Contact us today to make an appointment for a free consultation: 01517244850 or email Gemma@bookerflowersandgifts.co.uk