Colour of the Year for 2020 – Classic Blue
Booker Weddings, award winning Liverpool Wedding Florists, are looking to the year ahead and are particularly excited for the new Colour of the Year which has just been announced by Pantone.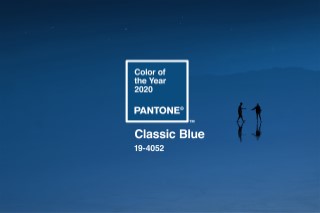 The new colour of the year for 2020 is a beautiful and timeless colour called 'Classic Blue'.
Classic Blue (Pantone 19-4052) is officially described as "a colour that anticipates what's going to happen next" according to Pantone Vice President Laurie Pressman, who selects the Colour of the Year.
Pressman said that Pantone felt that the colour highlighted dependability, trustworthiness, credibility, and constancy, all traits that are valued in the fast-paced, high-stress situations of the current world. She also pointed out that the deep blue matches that of the sky at dusk.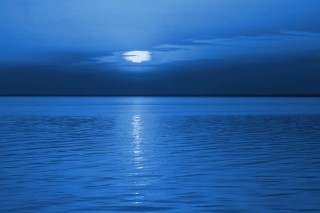 "The sky at dusk – it's not a midnight blue, it's thoughtful, but it's not so deep and mysterious," she said. "It speaks to our feelings of anticipation, when you think about the sky at dusk, the day isn't over. You're thinking, what's ahead of us? It's reassuring, but thought-provoking. It highlights our desire for this dependable, anchoring foundation on which to build as we cross the threshold into a new era. We're living in a time that requires trust and faith and confidence. We all see this blue sky and can relate to it, it's approachable."
Classic Blue seems especially fitting for 2020 as the hue is both genderless and seasonless, making it both accessible and desirable, for people in all walks of life.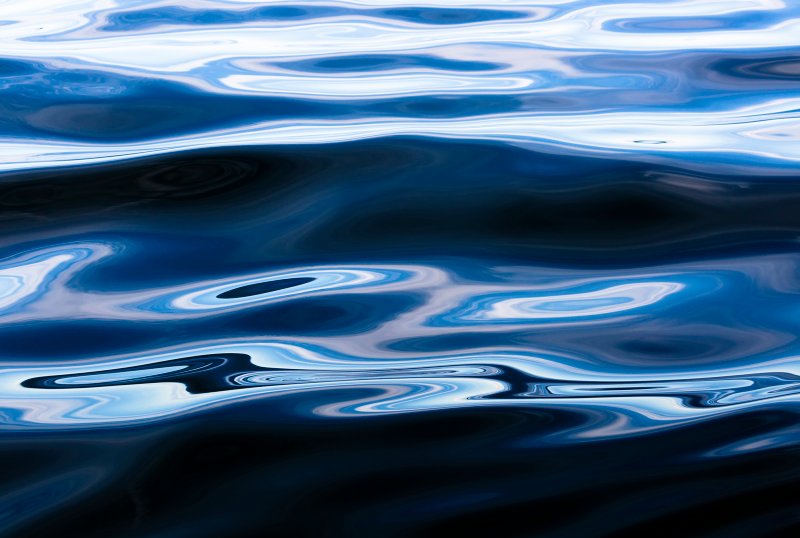 How to Use the 2020 Pantone Colour of the Year at your Wedding?
Liverpool Wedding Specialists Booker Weddings, on Booker Avenue Liverpool believes this timeless colour is set to be a big wedding trend for 2020 as it works well with a lot of other colours. Due to its flexibility it looks good when paired with warm hot colours such as orange, dark red, cerise and gold but is also compliments cooler shades such as mint, aqua, turquoise, coral and pink meaning you can have a number of shades in your wedding colour scheme.
A multi-coloured pallet of two or more colours combined is definitely going to be a big trend for 2020 Weddings and Classic Blue is perfect choice for this.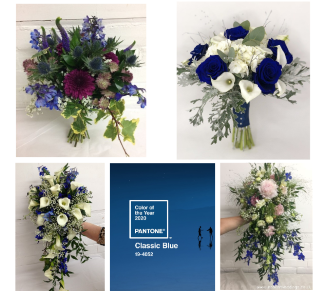 This blue hue can work across all seasons, due to the number of shades it can be combined with. Classic Blue will look beautiful with injections of turquoise or cerise at a Spring/Summer wedding, but equally well with deeper oranges, dark reds or gold at an Autumn/Winter wedding.
There are lots of ways it can be incorporated into your Liverpool Wedding, from stationery, bridesmaid dresses, groomsmen suites, favours and of course blue wedding flowers.
Blue wedding flowers are already a popular choice for bridal bouquets at weddings, because it is traditional for a bride to incorporate 'something blue' on her big day and there are lots to blue wedding flowers to choose from, including: Hydrangea, Rose, Eryngium, Cornflower, Echinop, Bluebell, Allium, Monkshood, Agapanthus, Nigella, Campanula and Veronica.
However, ivory/cream flowers with a small hint of Classic Blue, to inject a bit of colour, would also look gorgeous.
To get more classic blue wedding inspiration, visit our Pinterest board or contact us for a free Liverpool Wedding Flower Consultation.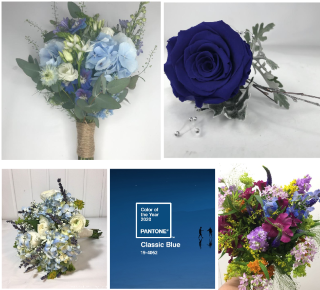 Booker Weddings | Award Winning Liverpool Florists | Bridal Florists | Wedding Flowers | Liverpool Wedding | Liverpool Bride | Liverpool Florist | Booker Avenue Allerton Liverpool L18 4QY