Calla Lily - If you choose white Calla Lilies for your bouquet then this will symbolie purity and innocence.
Roses - Roses are the most popular flower used in bridal bouquets but its no wonder they are so popular as they symbolise LOVE.
Gerbera - Gerberas represent cheerfulness which is easy to see when you see all the vibrant shades they grow in!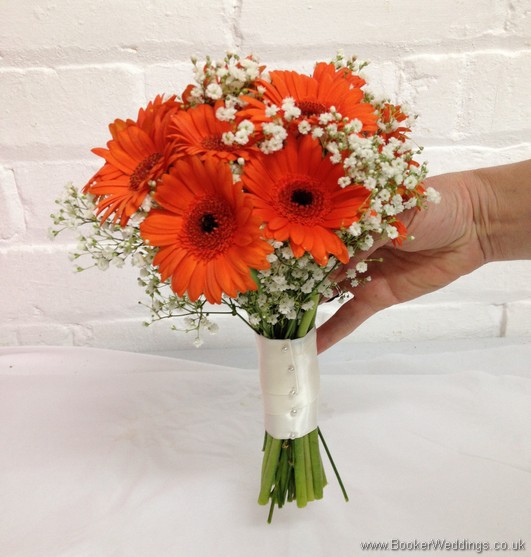 Tulips - Tulips signify the declaration of love - what flower could be more perfect when you are saying your wedding vows.
Daisy - The Daisy symbolises innocence and purity so it is the perfect flower to represent the beginning of your new lives together.
Hydrangea - The Hydrangea represents heartfelt emotions and can be used to express gratitude, so it could be a perfect flower for your bridesmaid bouquets.
Peony - The Peony represents happy life, happy marriage, good health and prosperity, all perfect ways to start a marriage!
Sunflower - The Sunflower is said to represent pure thoughts, adoration and dedicated love so it is a romantic choice for your bridal bouquet.
Freesia - Freesias represent innocence. They also represent thoughtfulness so can make a beautiful addition to your bouquet.
Orchid - The pretty Orchid symbolises exotic beauty, refinement thoughtfulness and charm, so it could be a perfect choice for your bouquet.
Anemone - The Anemone flower represents anticipation and excitement... that you will have just before you walk down the aisel.
Carnation - The Carnation, which comes in a variety of colours, is said to represent love and pride. A perfect choice for your wedding bouquet.
We hope this has given you some insight as to the meaning of certain wedding flowers to help you decide what you would like in your Wedding Bouquet.