Wedding Flowers FAQ to help with planning a Wedding
When you get married you are expected to arrange a massive event but with no real experience of what is needed! We get asked lots of similar questions so we have put these into a FAQ section to help you with your wedding planning.

But remember no question is silly! If you have a question you want to know the answer to just ask us.
Wedding Question: How will the stems of the bouquet be wrapped?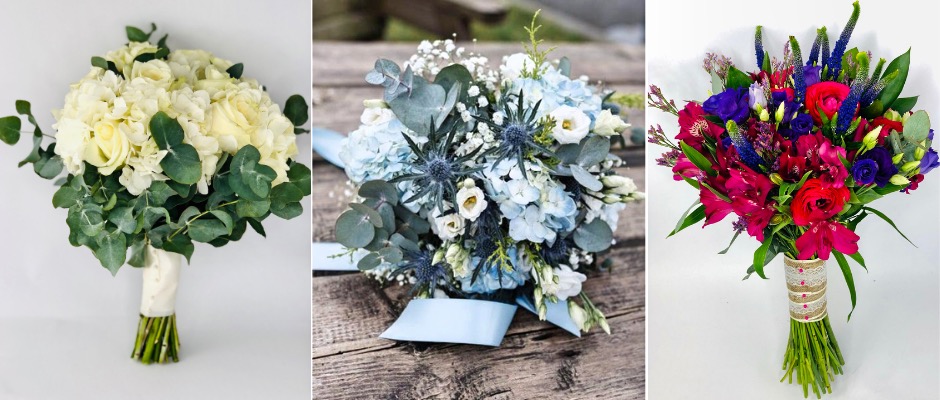 Answer:
The standard wrapping we do for hand-tied bouquets is an ivory satin ribbon finished off with pearl pins.
This ribbon covers the area where your hand will be holding the bouquet and a small amount on either side with stems showing at the bottom.
You can customise this for example change the colour to match or compliment your wedding colours. You could also have the stems wrapped over completely or you could have bows or trailing ribbons hanging down.
Alternatively, for a more Rustic Wedding Twine, Hessian or String can be used to match your wedding theme.
Booker Weddings are here to produce your vision so we'll happily customise your wedding bouquet to your specifications.
Question: Who carries or wears flowers in the bridal party?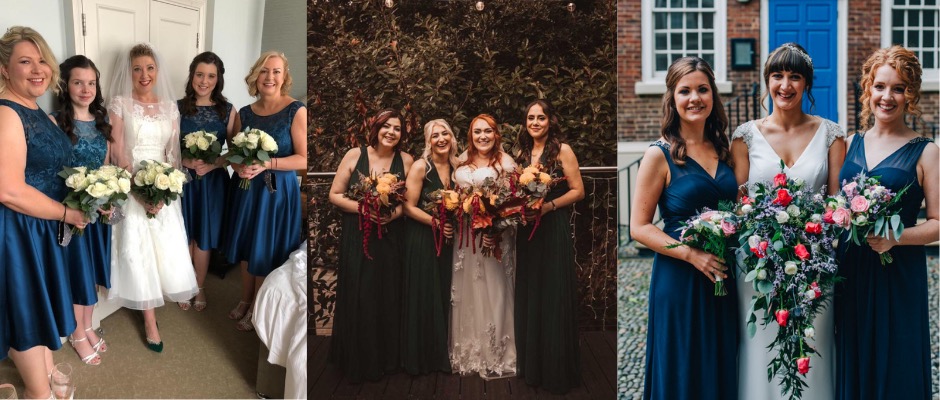 Answer:
Bride and Bridesmaids usually carry bouquets. The Groom Groomsmen Ushers Best Man and Fathers of the Bride and Groom have buttonholes. The Mothers of Bride and Groom have a pin corsage however sometimes they opt for a wrist corsage.
Sometimes the buttonholes are extended to everyone at the wedding however it is more usual these days for it just to be the immediate wedding party and maybe a few other key family members such and Nans and Grandads who have them.

Question: How long will my Wedding Flowers last?

Answer:
We condition our wedding flowers really well and make sure they have all the special food and treatments to ensure that they will look tip top throughout the day.

It is worth noting though that once you receive your flowers they are not drinking so it is advisable to keep them out of draughts direct sunlight or heat sources until they are being used.
At the end of the day if you are keeping your bouquet cut the stems before putting them in water. By then the ends will have sealed so they will not be able to drink without a fresh cut.
Question: What are the current trends for wedding flowers?

Answer:
The dominant trend for bouquets this year has definitely been a just-picked, slightly wild-looking bouquet with lots of different shapes, textures and trails of foliage with the flowers.
Pampas grass and dried flowers have also been very popular.

Colour-wise ivory and blush pink are still incredibly popular. However multi-coloured bright bouquets for Rustic or Festival Weddings are becoming more popular.

For reception flowers, jam jars and bottles are popular and so are tall glassware with large statement pieces. So from one extreme to another with not much in-between!
Question: When will flowers be delivered – how long before the marriage ceremony?

Answer:
We will deliver your flowers around 2-3 hours before the wedding ceremony.

If you would like them earlier or later then we will accommodate your specifications.
Question: How much should I budget for wedding flowers?
Answer:
As a general guide, we recommend 10% of your overall wedding budget should be put aside for your wedding flowers.

This would give you flowers for the bridal party plus the venue and/or reception.
We hope this has answered some Wedding Related Questions however if you want some further help, please do not hesitate to contact us. We have free Wedding Flower Consultations to help you plan the Wedding of your dreams.
For further Wedding Inspo see our Wedding Gallery which features lots of photos from real Weddings.
Alternatively, if you would like to read our Bride's testimonials then check out our Liverpool Wedding Testimonials Page on our website.
Booker Wedding is an award-winning Wedding florist in Liverpool and they look forward to making your wedding flower dreams come true.
Contact us today to make an appointment for a free consultation: 01517244850 or email Gemma@bookerflowersandgifts.co.uk